| Home | Back to Goldfish |

BRISTOL BLUE SHUBUNKIN
This is our very own strain of fish, developed some 70 years ago by careful line breeding here in Bristol. We describe below the standard to which the breeders aspire, the quality of present-day fish, the inside story of developing it and its history over the last 100 years.
The Bristol shubunkin was exported to Japan in about 2004/05 where it is known as the sierironisiki after the Japanese dancing fan of similar shape to the heart-shaped tail of the Bristol shubunkin.
The Bristol shubunkin standard is as follows:
Depth of body to be between approximately 35% of body length.
Caudal fin to be single and well spread with rounded lobes.
Dorsal and anal fins to be single, pectoral and pelvic fins to be paired and their extremities slightly rounded.
At least 25% of the body to be blue.
Minimum body length to be 7.5 cm (3 inches).
The fish should be bright and alert. The body should be long and slender with a smooth outline. The caudal fin should be well spread without drooping or overlapping.
Only calico fish to be shown. Fish should have a blue background with patches of violet, red, orange, yellow, brown and white, spotted with black. Quality fish should have a high intensity of colour evenly distributed over the body, with colour, especially black, extending into the fins.
The ideal profile is illustrated below:
For interest, here is an early version of the standard: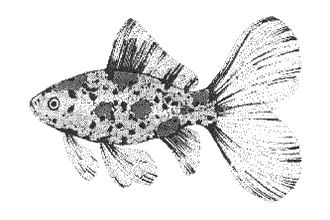 [Top]
Young fish, 8 months old
These are fine young fish, shown at BAS 2000. You could be forgiven for thinking that the tail in the picture of the standard (above) is an exaggeration, but these young fish demonstrate that it is real.
Mature adults
Good mature fish, illustrating the range of colours and patterns in calico fish. The individual at bottom-right could ideally have a larger tail, but possesses a very fine blue background colour.
Click on Further Images for more photographs. Then take a look at our streaming video clip of this lovely fish under About Us.
[Top]
Obtaining stock
There are some 50 hobbyists in Britain breeding the Bristol shubunkin, and present-day strains, some of which go back 25 years or more in the hands of the same breeders, are thought to have good colour, although some are a little dark overall; some strains are thought to lack a large enough tail, others are slightly deep in the body. All strains these days, though, have good strong tails that do not droop with age.
Hobbyists new to breeding initially acquired 10-20 young fish from established breeders to get them going, and now run breeding stocks of some 10-30 individuals with an even balance between the sexes. Naturally, breeders retain their very best stock, so initial acquisitions, although from good local strains, had room for improvement, and from time to time breeders have acquired further stock from either local breeders or other societies for outcrossing to improve their strain; outcrossing has more often than not proven advantageous.
Selecting for desired characters
About 1,000-5,000 fry are typically produced per breeder in a season and about 10-25 are retained, giving a ratio of about 200:1 (i.e. 1 in 200 is very good in quality and kept for future showing and breeding). A number of breeding schemes are followed, e.g. father-with-granddaughter, mother-with-son, but always the best fish are used, sometimes irrespective of relationships.
The colour and overall body shape are the first characters to improve as a result of selective breeding, and the large tail is the hardest character to achieve. It is not necessarily the rule that good fish produce good young, which can be a puzzle, and improved characters, if not carefully maintained, will deteriorate - in fact the fish, if left to themselves in large numbers, would steadily revert to wild type. Some find that improvements in the tail lead to deepening of the body, and it is a skill to achieve a good balance of characters in accordance with the standard.
Breeding
Preparations for the breeding season start in February-March, some leaving it until April. The sexes are separated so that pairing is controlled. Some pairs are left to spawn naturally, whilst others are hand-spawned (i.e. the owner aids the release of eggs and spawn by gentle pressure above the cloaca), particularly when, for example, it is wished to breed more than one male with a certain female. Adult fish are fed flake, pellets, earth worms, frozen bloodworms and other frozen foods to condition them. Fry are fed on brine shrimp for the first 2-3 weeks, then live daphnia and crumbled flake; some breeders have lost fry when weaning them off brine shrimp onto crumbled flake, and live daphnia proves very successful in averting such losses.
Culling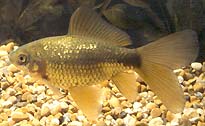 Culling (selecting individual fish for retention or not) starts when the fry are 4 weeks old, when the pinks and bronzes are removed, together with deformed fish - bronzes are fish that have reverted to wild type colouration (a picture of a bronze is on the right), and pinks are fish with no colour at all.
A second cull is carried out when the fry are 8 weeks old and a third at 12 weeks, selecting for colour and body shape, and further culls in late Autumn to early Spring the following year, when the quality of the tail is becoming apparent.
Housing
Fish are kept in tanks in fish houses (greenhouses plumbed for easy water changes) and ponds. Neither are heated at any time. Some breeders change 100% of tank water over the course of each week, using either all tap water or a 50-50 mix of tap water and pond water (which some feel is advantageous). Local water in the Bristol area is now very good, and it is usually left for a few days rather than treated; the water is slightly alkaline (pH of about 7.7) and medium-to-hard.
Keeping
Bristol shubunkins suffer little in the way of diseases, parasites or other problems (compared with some other types of fancy goldfish), and are very hardy, becoming very tame. Some live for 15 years or so.
Improving
Most breeders' objective for improving the Bristol shubunkin is to advance the size and shape of the tail closer to the standard.
[Top]
Origins
According to samurai-goldfish.net, the shubunkin was created in 1892 by cross-breeding the calico telescope, the common goldfish and the single-tail wakin. In 1900, the shubunkin was so named by the Fisheries Educational Institution of the Ministry of Agriculture and Commerce, and was revealed to the public in 1902. It was named 'shubunkin' due to its bright red and blue body color, similar to a kimono.
Breeders in America quickly took to the fish, producing fish with long, pointed, single tails (known as 'comet' shubunkins), and these are the commonest form of shubunkin, seen these days in aquarium shops all over the world.
Arrival in Britain
In Britain, it was quickly realized that these shubunkins were ideal coldwater fish, being both colourful and hardy. Members of BAS took a keen interest in this fish, and in 1934 they produced the Bristol shubunkin standard. The outline drawing of the type was a composite of many fish and the result was regarded as an ideal that we should seek to achieve. The first schedule for points allowed 55 for colour; as a result, fish of inferior shape sometimes came higher in the awards simply because of their better colouring.
Revised standard
In 1938, BAS revised its pointing system to allow 35 for colour, with 5 extra points for body, tail, and fins, plus a bonus of 5 points for soft gill plates. Over the years, preferences have been shown for different aspects of this fish and at one time all-blue fish were the fashion. Other societies have sometimes attempted variations on the Bristol standard (for instance, there is the London shubunkin, which is short-finned like the common goldfish), but the true Bristol shubunkin has remained a firm favourite above all imitations.
Leading to the modern standard
In 1979, after 50 years of shubunkin breeding by our members and friends around the country, a slight revision to the standard was again made to reflect the preferences of the vast majority of the exhibitors at our annual shows and to keep pace with the progress made by breeders. This revised standard (described and illustrated above, at the head of the page) includes a pointing system giving equal weighting to body, fins, colour, condition/deportment and special characteristics, which will ensure the future of our Bristol shubunkin as a well-balanced fish.
It is certain that this active, beautiful fish of infinite colour variations is as popular amongst British goldfish keepers today as it ever was in the past. For many hobbyists, the breeding of this variety has become a full-time interest and almost a way of life, being responsible for friendships between persons living many miles apart.