| Home | Back to Common Goldfish | Back to Goldfish |

LONDON SHUBUNKINS
Young adult London shubunkin goldfish
These fish were shown at BAS 1999 (left) and BAS 2000 (right).
Very fine young London shubunkins shown at GSGB 2005; the Society has achieved a very good, even balance of red and blue in their fish.
Two more fish, shown at BAS 2005 (left) and GSGB 2005 (right).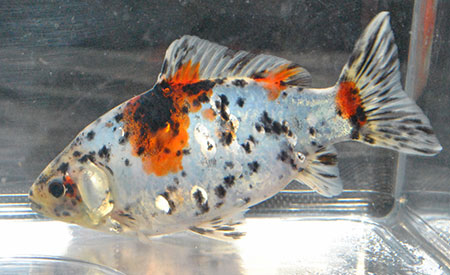 Fine adult London shubunkin with good calico colouration, although ideally there would be more areas of red. Photo courtesy of the Nationwide Show 2016.