| Home | Back to Fantail | Back to Goldfish |

METALLIC FANTAILS - FURTHER IMAGES
Mature adult fantails
Exceptionally fine adult fantails, taken from the BAS 35mm slide collection: self-coloured red metallics and a red/silver-white variegated.
Winners of Best in Show 2002 and Best in Section 2002 and 2003
Exceptionally fine pair of adult red metallic fantails. These fish were presented at BAS 2002 and 2003, where they won Best in Section in both years and Best in Show 2002. Vertical views are uncommon in the literature, but this was how the twintail goldfish were originally bred to be seen, before the days of glass tanks.
Further, prize-winning matched pairs of red metallic fantails, shown at BAS 2013 (left) and 2012 (right).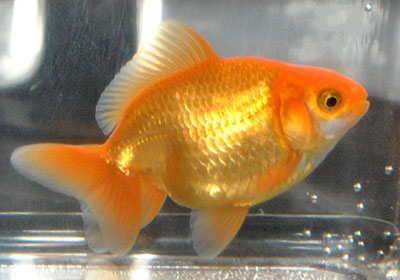 Young adult red fantail; ideally the body would be slightly deeper in relation to the length. Photo courtesy of the Nationwide Show 2016.