| Home | Back to Jikin | Back to Goldfish |

JIKIN - FURTHER IMAGES
Young adults
Young adult jikins shown at BAS 2011 (top) and GSGB 2011 (bottom - both pictures are the same fish). Ideally all the fins would be fully coloured red. All fish have red lips in accordance with the standard, but the heads should have the same silvery-white colouration as the body.
Young adult with colouration on the body
A very nice, bright young fish with red colouration on the body that is a fault according to the Japanese ideal standard. Shown at BAS 2007.
In Japan, near-perfect jikins are sometimes 'made' perfect by removing a few unwanted red body scales at a time, and these grow back silver-white. (Do not try this at home!).
Top view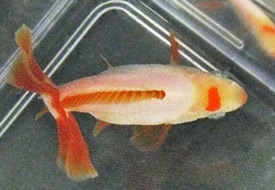 Top view of a young adult jikin showing the almost square angle of the tail relative to the body. The double anal fins are just visible. Photographed at GSGB 2009 in low light.
Front and rear views
Close-ups of the divided and outwards-splayed tail and the double anal fins. Shown at BAS 2011 (left and centre) and GSGB 2009 (right).
Thank you
BAS is indebted to Gary Hater (RWT's Goldfish Information) and Karel Verstraete (Japan Kingyo Hozonkai of Belgium) who for a long period loaned us their pictures of jikins until we obtained further pictures from our UK shows.