| Home | Back to Bristol Shubunkin | Back to Goldfish |

YOUNG BRISTOL BLUE SHUBUNKINS
Here are some photographs of first-year Bristol shubunkins taken at our Annual Show in September 2000-2005, and a new photograph from 2013.
One-year old juveniles
The fish above have the overall red-on-blue colour pattern of the classic shubunkin, which means red brocade in Japanese - see About Goldfish: in nacreous/matt fish (which have transparent rather than shiny scales), when there are very few black pigment cells present and when these are located deep within the skin rather than on the surface (and when red/orange/yellow pigment cells are absent in that particular area), the apparent body colour to the observer is blue, as the very thin layer of body tissue overlying the black pigment cells modifies the quality of light reflected to blue.
Further images of 7-8 month old young Bristol shubunkins. It is very difficult to capture the blue body colour on photographs as the blue is an apparent colour (see above).
This is an unusual, yellow-orange strain regularly seen at our Annual Show, photographed here in 2005.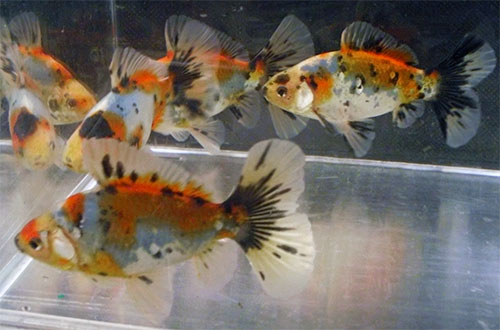 Young Bristol shubunkins bred and shown in 2013. (There is a yellow colour cast in the photograph.)