| Home | Back to Bristol Shubunkin | Back to Goldfish |

BRISTOL BLUE SHUBUNKIN - FURTHER IMAGES 3
Here are some photographs of adult Bristol shubunkins taken at our Annual Show between 2000 and 2004.
Notice how the adult tail size increases with age, compared with the young Bristol shubunkins. The black-red individual at bottom-right is typical of the darker fish seen in the late 1990s; these are less common now, the preference being for more of a blue background (again, as seen in the young fish).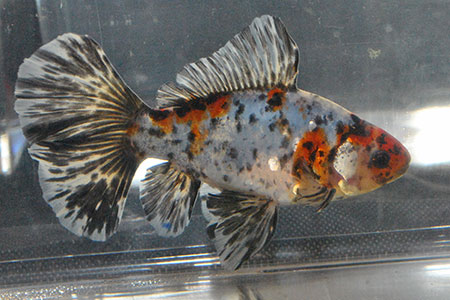 Young adult Bristol shubunkin with good calico colouration. Photo courtesy of the Nationwide Show 2016.